Home/ Solutions/ Industrial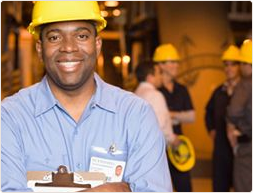 Increase Productivity with Wireless PageAlert Industrial for Factory Alarms

How important is it for you to automatically deliver critical factory alarms to staff, within SECONDS?

Factories, Refineries, Mines and the Industry in general, invest thousands of Dollars in implementing production systems that generate alarms.

Alarm operators and production staff must respond quickly to factory alarms that require immediate action. Loudspeakers, strobes, telephones and two-way radios are not effective in factories with a high noise environment.

Deliver instant factory alarms to wireless devices, reliably

Use wireless PageAlert Industrial to increase productivity and reduce downtime. Deliver specific factory alarm messages to one person or to selected Groups of people carrying Canamex in-house pagers, smartphones and tablets.

Modern production and alarm monitoring systems attempt to apply this solution by sending emails or SMS messages to staff with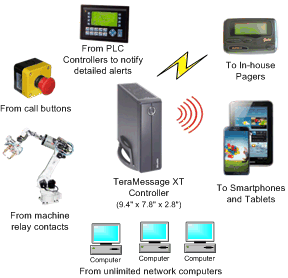 smartphones, but we all know that these communication formats should not be used for critical factory alarms because are not reliable. Will you trust the delivery of a critical factory alarm sent via email or SMS, knowing that it can take a long time to get to a smartphone or to a commercial pager? In addition, there is no way of knowing if the critical alarm message sent to a recipient using a smartphone, has been read.

Increase productivity by allowing production and executive staff to respond faster to critical factory alarms. Relieve the stress suffered by Production Alarm Monitoring operators. A wireless PageAlert factory alarm solution provides extreme reliability when using Canamex's in-house pagers and smartphones on local Wi-Fi or on cellular networks.

Choose PageAlert Industrial options as needed

The PageAlert Industrial solution consists of a TeraMessage XT controller running PageRouter software, which allows you to choose options for your specific requirements: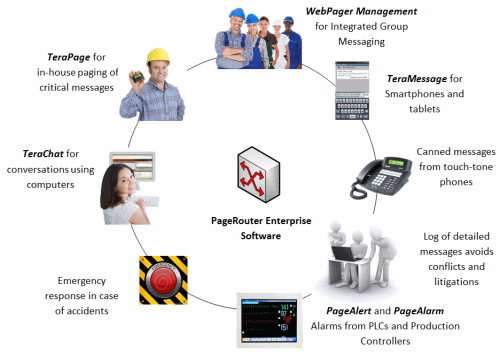 TeraPage: Staff carrying Industrial-rated pagers, receive alarms within seconds
PageAlert: Monitor PLC and machine contacts; Send alerts using emergency buttons.
PageAlarm: Deliver alarms from existing Production Monitors. Filter alarms by specific word matches within the text.
WebPager Management: Send messages to staff from unlimited computers using a browser. There is no need to install special software clients. Administrators organize staff by Groups and Departments. i.e.: Work Shifts, Emergency Response, Maintenance, etc.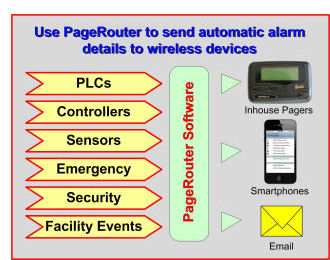 TeraMessage: Staff can receive alarm messages on their smartphone and tablet, within seconds, via the local Wi-Fi or the cellular networks. TeraMessage users can exchange messages between themselves and with TeraChat users.
TeraChat: Authorized users with computers can establish text conversations with TeraMessage users and with other TeraChat users.
PhonePaging: Use any touch-tone phone to trigger programmable canned messages for transmission to selected Groups or individuals.
Message Log: Use a detailed master log of all sent alarm messages to track alarms and monitor operations. The log also stores messages sent by individuals using WebPager, TeraChat and TeraMessage. Export filtered messages for your alarm statistical analysis.
sales@canamexcom.com
. Tell us what you need. We will configure a solution at no charge.

Deliver alarms to in-house, onsite pagers
Use QUIKPAGER Wireless or a PageRouter solution based on your specific requirements to trigger
transmission of alarms.
QUIKPAGER Wireless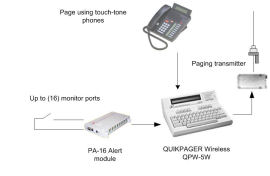 Use a QUIKPAGER Wireless to monitor no more than (16) contacts and send messages to 5 or 10 people with in-house pagers.


This package is ideal for small factories who want to quickly respond to change of status of PLCs or machines relay contacts.
Use touch-tone phones to trigger programmable canned messages.
PageRouter Pro solutions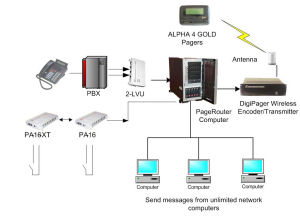 Use a PageRouter Pro with PageAlert to monitor PLC and machine contacts and deliver programmable canned messages to staff. PageRouter allows assignment of staff to each contact with simple drag-and-drop action. By adding PA-16 modules, you can monitor up to (1000) contacts.
In this example, personnel can use the telephone to trigger emergency response action from any place in the factory.
Authorized personnel can also send messages from any network computer.

PageAlert Video Clip

Deliver critical alarms to in-house pagers, smartphones and tablets
Use PageRouter Enterprise to guarantee delivery of critical alarms to smartphones and tablets.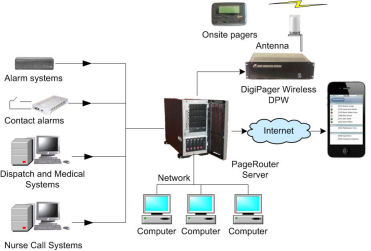 PageRouter Enterprise can be configured in multiple ways by selecting one or more of the following options:
Deliver alarms from SCADA or building alarms.
Monitor PLC and machine contacts using PageAlert modules.
Deliver production alarms generated by your existing Production Alarm Monitoring systems.
Deliver alarms from Robotic automated controllers.
Authorized personnel using computers can send messages to pagers and establish two-way text messaging with smartphone and tablet users.
Send messages to in-house pagers and/or to smartphones running the TeraMessage app.

PageAlert Video Clip

PageAlarm Video Clip

Use PageAlert modules to monitor PLCs and machine contacts
PageAlert modules can be used with QUIKPAGER Wireless and PageRouter solutions.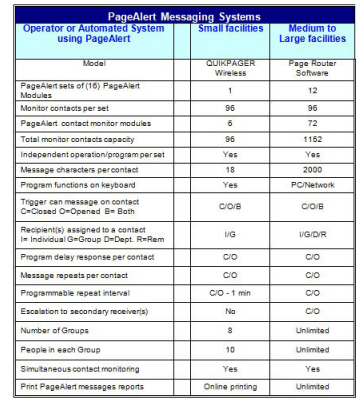 Deliver programmable alarm messages when PLC and machine contacts close and/or open.
Use QUIKPAGER Wireless with PageAlert when you need to monitor up to (16) contacts and you want people with in-house pagers to simultaneously receive each alarm.
Use PageRouter Pro with PageAlert, to easily change assignment of individuals or different groups of people with in-house pagers, to each alarm contact.
Use PageRouter Enterprise with PageAlert to send alarm messages to in-house pagers and/or smartphones and tablets.
Assign alarms to selected personnel with drag-and drop action, for immediate response.
Program escalation if alarm event persists after a programmable interval.

PageAlert Video Clip

Use PageRouter with PageAlarm to send alarms from your Production Alarm Monitoring Systems to in-house pagers, smartphones and tablets.
Deliver to PageRouter a cascade of alarms from your Production Alarm Monitoring system via a serial
cable. PageAlarm will only select for delivery those critical alarms based on programming conditions.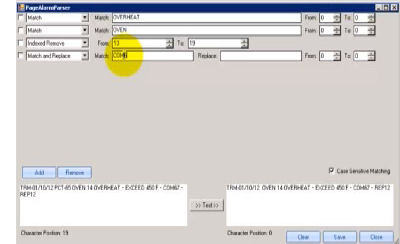 Use PageAlarm filters to select specific critical alarms by matching certain words within the text.
Use user-friendly parsers to remove specific words received on selected alarm text.
Use the parser to add words to alarms, before transmission, that match the filter conditions.
Assign delivery of specific alarms to selected personnel based on matched filtered conditions in alarm.

PageAlarm Video Clip