Home/ Products
SECURE MESSAGING
IN-HOUSE PAGING
WIRELESS PAGING EQUIPMENT
POCKET PAGERS
TERAMESSAGE MOBILE FOR CORPORATE MESSAGES

Only for people in your Organization

Protect your critical mobile messages

By subscribing to the TeraMessage service, you will give your Organization an independent, protected way to exchange mobile messages, documents and images between people using computers, smartphones and tablets. Avoid Corporate messages and documents from falling in the hands of people that do not belong to your organization.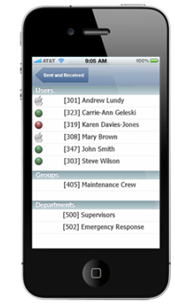 Why TeraMessage for your Organization
Sensitive messages, documents and images can only be exchanged between members of your Organization on TeraMessage.
No one can "invite" outside people to join TeraMessage.
There is no need to use cellular phone numbers. Avoid Geotracking.
You, as the Administrator, determine who can send messages and attachments to whom.
Powerful unique features
Users can see who is online before sending a message. If off-line, messages are delivered the moment the user turns on the device.
The sender automatically receives a notification the moment that the smartphone or tablet recipient reads the message.
Messages travel encrypted end-to-end, between smartphones and computers.
The TeraMessage app automatically switches between cellular networks and internal Wi-Fi.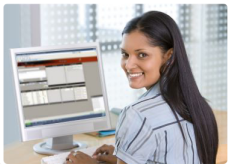 Buy TeraMessage service for two types of Users
TeraMessage app: Receives and sends messages and attachments on their Apple and Android smartphones.
TeraChat: Receives and sends messages and attachments from any computer using a browser. There is no need to install any software.
Attachments are also protected by encryption
Smartphone users can view sensitive pictures and PDF documents received as attachments, without the risk of savinge them on their mobile device.
In order to keep critical pictures and documents inside your organization, smartphone users cannot forward attachments to other users or people outside your organization.
Documents, images and photos travel encrypted on the Internet and cellular networks.
TeraMessage app users can take a picture and send it to other TeraMessage and TeraChat users.
As Administrator, you determine who can send attachments.
TeraMessage app users can send photos from the Gallery or documents stored in the device.
Who needs TeraMessage?
Government entities: Executives, Diplomats, Police, Special Forces, Detectives and Investigators, Governors and their executive branches.
Political parties: Organizers, Advisors, Leaders and their staff.
Emergency Response teams: Fire Departments and first responders; ideal for replacing pagers.
Private Banks: Managers and bank officers, VIP clientele to communicate with their managers.
Hospitals of all sizes: Nurses, Doctors and Hospital staff - TeraMessage helps to comply with HIPAA.
Other organizations: Protect sensitive information sent between people with smartphones and computers.
Message and user management
Authorized Managers and Supervisors use a browser to organize users by Departments, with drag-and-drop action on a map.
Supervisors can easily create Groups in each Department to receive the
same message, instantly!
TeraChat is ideal for busy dispatch operators to send messages while taking calls.
User-programmable canned messages help fast entry of messages.
An optional message log shows to each user on TeraChat, their sent and received messages.
Is TeraMessage SMS or email?
TeraMessage becomes your PRIVATE wireless messaging service, totally independent from SMS and email.
Is TeraMessage a hosted service?
TeraMessage is a PRIVATE service. You will be able to maintain total ownership and secrecy of your messages and attachments, under your absolute custody and protection.

Our trial offer

Buying the TeraMessage Private Service is like buying a car. You must drive it to see its power and reliability.

We can open a trial account for (10) users for 15 days so that you and other people in your organization can use it as if it were already installed at your location. We do not need to install any software for the trial. If the price is right, there is nothing to lose trying TeraMessage.

Would you like to "drive" TeraMessage and give it a try?

Feel confident that we will offer you practical solutions that will comply with even your most demanding requirements, at the right price!


Send us an email with your requirements at sales@canamexcom.com. Tell us what you need. We will configure a TeraMessage Private messaging solution at no charge.

VISIT THE TERAMESSAGE WEBESITE AT www.teramessage.com