Home/ Products/ QUIKPAGER 2400
SECURE MESSAGING
IN-HOUSE PAGING
WIRELESS PAGING EQUIPMENT
POCKET PAGERS
QUIKPAGER 2400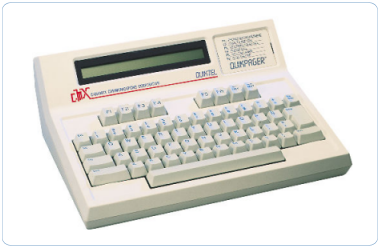 User-friendly. Convenient. Dependable.
Are you using Commercial paging?

Use QUIKPAGER 2400 to send text messages to commercial alphanumeric pagers. After you enter a message, QUIKPAGER 2400 will use its internal modem to dialup, connect to a paging company and deliver your message.

QUIKPAGER 2400 doesn't freeze up, or depend on an internet connection to deliver your important text messages to the paging company!


Message entry backup for PageRouter solutions

You can run a cable from QUIKPAGER 2400 to connect to a PageRouter computer to input messages when there are no computers available in certain locations in your building, or simply, as a backup message entry device just in case the network goes down.




How it works:
When you want to send a message, simply type a few letters of the first or last name of the recipient or a Group to find a match, type your message, and press "Enter".

You can program up to (32) Groups and each Group can have any number of paging users taken from its internal directory.

We have QUIKPAGER 2400 for up to 200 pager users, while other models such as QUIKPAGER 500 and QUIKPAGER 1000 are for 500 and 1,000 users, respectively.

You can program up to (6) canned messages when you need to input repetitive text messages.

QUIKPAGER 2400 will use its internal modem to dialup and connect with paging companies and automatically hang-up after delivering the messages. You can type one message after the other, without having to wait for the delivery of the first message.

You could connect a printer to obtain a message log for your records, which will show the date and time of message entry, the name of the recipient and the text of the message.
Features and Specifications
This fast and user-friendly paging device is widely used in Clinics, Nursing Homes, Hospitals, and Dispatch Centers, to send messages to commercial pagers or to connect to our PageRouter paging systems when computers are not available.
Capacity for (200) pager users
Program names in directory
Create up to (32) Groups
Up to (32) Commercial paging companies
(6) Programmable canned messages
Memory for (350) messages
View messages sent to an individual
Messages can be 235 characters each
(1) RS-232 TAP inbound/outbound serial port
Printable message log
Standard-size QWERTY keyboard
Clone programming via a cable or dialup
Lithium battery retains programming
Internal surge protection
Standard TAP Protocol
Available in English, French and Spanish
Includes:
(1) Battery backup to preserve programming
(1) AC/DC power adaptor
(1) Telephone cable
(1) QUIK Reference Guide



Send us an email with your requirements at sales@canamexcom.com. This popular product is in high demand.