Home/ Solutions/ Healthcare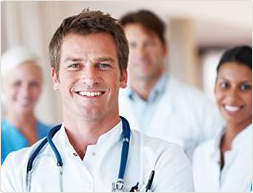 Healthcare Critical Messaging

The mission of a Hospital is to save lives. During emergencies, every second counts. Medical responders must receive critical messages as quickly as possible, 24/7/365.

Achieve these goals with a PageRouter and TeraMessage Mobile solution. Your Hospital will comply with HIPAA regulations regarding protection of patient information. When using TeraMessage Mobile, text messages and attached documents, travel encrypted to smartphones and tablets. Delivery is in seconds.

One unique benefit in using TeraMessage is that patient information never leaves the recipient's smartphone. Sent pictures and Adobe PDF documents cannot be saved on the device, thus protecting who can view patient files in compliance with HIPAA.

Another great advantage is integration of messages between pager and smartphone users. This fact allows the Hospital to make a transition from pagers to smartphones as the Hospital gains operation confidence using Smartphones.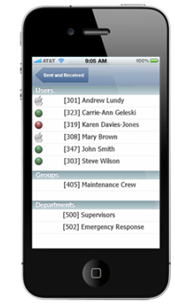 Use TeraMessage Mobile to deliver critical messages to smartphones and tablets - HIPAA compliant

Messages and attached documents, pictures and electronic files, sent between smartphones and computers, travel protected by encryption.
Messages between smartphone and computer users are delivered in seconds.
Medical staff with Apple and Android smartphones install the TeraMessage app.
There is no need to program the cellular phone number.
The sender automatically receives a notification the moment that the smartphone or tablet recipient reads the message.
The smartphone can be used on the cellular network or internal Wi-Fi network.
Learn more about TeraMessage Mobile...
Combine pagers and smartphones in the same system - the ideal solution
Save thousands of Dollars and improve operations.
Staff can send messages to pagers and chat with staff using smartphones, from any computer using TeraChat.
Integrate commercial pagers or in-house pagers, with messaging to and between smartphones and tablets.
A PageRouter Enterprise "combined solution" is ideal to balance the benefits of old and the new technologies.
Transition from pagers to smartphones at your own pace, while complying with your sensitive budgets.
The WebPager Message Management solution
Authorized personnel use WebPager on a browser to send messages to pagers and smartphones
The TeraChat option allows WebPager users to receive messages from TeraMessage app and other TeraChat computer users.
It takes a few clicks to send a message - ideal for busy operators to send messages while taking calls.
User-programmable canned messages help fast entry of messages.
A searchable message log shows to each user, their sent and received messages
Messages exchanged by TeraChat computer users are also protected by encryption.
Administrators and Supervisors can create and manage Groups with simple drag-and-drop on a browser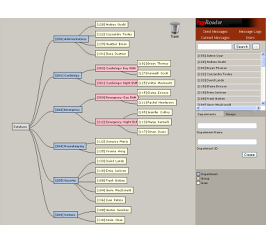 Department supervisors can quickly program Groups that need to receive the same critical message.
Groups can be made of staff with pagers, smartphones and tablets.
A Department and Group map on a WebPager page, quickly tells who belongs to which Group.
As the Administrator, you control who can send messages to whom.
Key PageRouter applications for Healthcare
Messages from existing Nurse Call systems: Send automated critical messages to staff with in-house pagers and smartphones, for delivery in seconds.
PageAlert: Send programmable messages when monitoring medical equipment activate contacts.
PageAlarm: Send alarms generated by medical monitoring equipment to staff with pagers and smartphones.
PhonePage: Staff can use touch-tone phones to send programmable canned messages to emergency response staff. i.e.: Code blue.
WebPager Management:

Authorized staff can send messages from an unlimited number of computers using a browser. There is no need to install special software clients. Administrators and Department Supervisors can organize staff by Groups and Departments. i.e.: Work Shifts, Emergency Response, Maintenance, etc.
Message Log: Use a detailed master log of all sent alarm messages to track alarms and monitor operations. The log also stores messages sent by individuals using WebPager, TeraChat and TeraMessage. Export filtered messages for your alarm statistical analysis.
A
PageRouter
"
combined solution
" is ideal because
the Hospital can enjoy the benefits of message integration.
Guide to select PageRouter solutions
Select a PageRouter solution based on Hospital needs. You can combine solutions as needed, integrating emergency and patient information messaging, to achieve specific goals and comply with
HIPAA
.
TeraPage:

Delivers emergency and critical messages to medical staff with Canamex in-house pagers, IN SECONDS, using a powerful Canamex transmitter to cover the entire Hospital building. TeraPage might use existing transmitter and pagers, to save money.
TeraMessage Mobile:

Gives compliance with HIPAA when exchanging patient information through cellular and Wi-Fi networks. TeraMessages and attached electronic files travel encrypted. Sender automatically receives notification when recipient reads the message. The TeraMessage app works on Apple and Android devices.
TeraChat:

Allows medical staff to use computers to exchange patient information and messages with smartphone and tablet users with TeraMessage Mobile, as well as with other computer users with TeraChat.
The basic paging package for clinics, nursing homes and medium size Hospitals
Staff can deliver critical messages from any network computer by using WebPager in a browser.
we will install PageRouter on a network computer running Windows 7.
Connect the DigiPager Wireless encoder/transmitter to the computer.
Program users with their corresponding pagers.
To send messages, authorized staff can go to any network computer and login using WebPager on a browser.
Messages will be delivered in seconds!
Contact Canamex if you need additional functionality.
Replacing old in-house paging equipment
Revitalize your in-house paging operations with PageRouter, and the Canamex family of paging encoders and transmitters.
Transmitter power from 5, 25, 50, 100 and 200 Watts.
High speed paging encoders for Hospitals delivering thousands of messages per day.
Connect a 2-LVU module to PageRouter to page using touch-tone phones.
Use PA-16 modules to monitor medical equipment and trigger canned message alarms when contact close or open.
We will take care of every aspect of the installation, and provide programming training and assistance.
PageRouter Enterprise for in-house paging and messages to smartphones
Messages from multiple sources are routed to in-house pagers, and/or smartphones.





Multiple sources


Using the PageAlarm option, PageRouter receives messages from the alarm monitoring equipment.
Using the PageAlert option, PageRouter sends programmable messages triggered by the change of relay contacts status.
An existing third -party dispatch and answering service application delivers messages to PageRouter for transmission to in-house pagers and smartphones.
A Nurse Call system delivers messages to PageRouter for transmission to in-house pagers and smartphones.

Multiple destinations


PageRouter delivers messages to the DigiPager encoder and transmitter for in-house pagers.
PageRouter delivers messages to smartphones and tablets running the TeraMessage app.
PageRouter can give you 99.99% in-house paging reliability
Messaging delivery reliability is very critical in Healthcare. The PageRouter Onsite configuration for Hospitals who want to achieve 99.99% reliability 24/7 is shown below.



PageRouter software is installed in an independent, stand-alone Server computer running Windows 2008 Server operating system.
The Server normally has a RAID5 configuration with (4) hot-swappable hard drives.
PageRouter can receive messages from multiple sources, including network computers using WebPager.
The configuration has (2) independent encoder and transmitters with their respective antenna mounted on the roof.
PageRouter delivers messages to the Main or to the Backup encoder and transmitter depending on the control received from the SENTINEL signal monitor device.
PageRouter notifies the Administrator if PageRouter switches from the Main to the backup transmitter.
PageRouter periodically tests the transmission availability of the backup transmitter to ensure that it can be used in the remote case of switching.
In this configuration using SENTINEL, PageRouter posts in the message master log "transmitted" meaning that the message transmission over the air for that message, has been confirmed.
sales@canamexcom.com
. Tell us what you need. We will configure a solution at no charge.