Home/ Products/ QUIKPAGER Wireless
SECURE MESSAGING
IN-HOUSE PAGING
WIRELESS PAGING EQUIPMENT
POCKET PAGERS
QUIKPAGER Wireless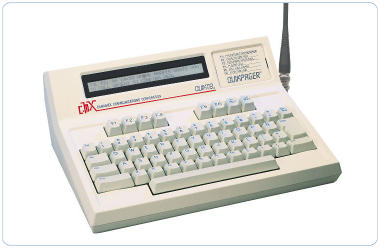 Stand-alone. Reliable. User-friendly.
Use QUIKPAGER Wireless QPW-5W, to type and send text messages to OnSite pagers, for delivery in SECONDS!

QUIKPAGER Wireless can also be used as a stand-alone encoder/transmitter to page messages received from an external source or from multiple sources using Canamex expansion modules, via a serial connection.

In addition, QUIKPAGER Wireless has an internal high-speed modem, to dialup, connect and deliver messages to up to 30 Commercial paging companies. This means that you can use QUIKPAGER Wireless to send messages to OnSite pagers and to Commercial pagers.

The internal modem can also be used to transfer programming between QUIKPAGER Wireless via a telephone call. This is ideal when you use more than one unit. You program one unit and you can clone the others. Cloning can also be performed via the RS-232 serial Connector.

When you need to page using touch-tone phones, order QUIKPAGER Wireless QPW-5W-VP. Connect a PBX analog extension line to QUIKPAGER VP and call to page. Voice prompts will guide you to enter the pager or Group ID and enter a numeric message. Optionally, you can use touch-tones to trigger one of the (6) programmable text messages and append them with a number.




How it works:
When you want to send a message, simply type a few letters of the first or last name of the recipient to find a match, type your message, and press "Enter"! You can program individuals with a short ID before or instead of their name. When using the QPW-5W-VP to page using touch-tone phones, follow the voice prompts to enter the programmed short ID to select a user or a group of people and enter a numeric message or trigger a programmable canned message.

QUIKPAGER Wireless will transmit your message, using the antenna kit (included). Your Canamex pagers will receive the message within a few seconds. Paging coverage range can be extended with Canamex antennas and power amplifiers.

You could connect a printer to obtain a message log for your records, which will show the date and time of message entry, the name of the recipient and the text of the message.


Features and Specifications
This fast and user-friendly paging device is widely used in Clinics, Nursing Homes, small Hospitals, Dispatch Centers and other businesses where transmission of critical messages require of a professional and reliable stand-alone paging system.
Capacity for (200) pager users
Program names or numeric ID in directory
Create up to (8) Groups
(6) Programmable canned messages
Up to (30) Commercial paging companies
Memory for 200 messages
Messages can be 235 characters each
(1) RS-232 TAP inbound/outbound serial port
Printable message log
Standard-size QWERTY keyboard
Clone programming via a cable or dialup
Lithium battery retains programming
Internal surge protection
Standard TAP Protocol
Available in English, French and Spanish
Includes:
(1) Battery backup to preserve programming
(1) AC/DC power adaptor
(1) Transmitter with antenna




Send us an email with your requirements at sales@canamexcom.com. Tell us what you need. We will configure a solution at no charge.