Home/ Products/ ALPHA4 Gold
SECURE MESSAGING
IN-HOUSE PAGING
WIRELESS PAGING EQUIPMENT
POCKET PAGERS
ALPHA4 Gold - Alphanumeric Pager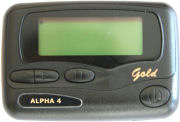 The ALPHA4 Gold pager is perfect for any application where alphanumeric paging is required.
It has the strongest vibrator on the market, making it ideal for high-noise environments, as well as environments where quiet or discretion is required. It also features an extra-long battery life, reminder alert and zoom, and auto sleep/scroll.
The ALPHA4 Gold pager is strong and rugged, and can better survive falls and rougher treatment.
The sealed buttons and intrinsically safe UL approval make this pager particularly ideal for chemical environments, gas refineries, manufacturers of explosives, etc.
Package Includes:
(1) ALPHA4 Gold pager, Plastic holsters with clip, 1.5V AA alkaline battery, User Manual, and Chain.
Specifications:
Type: Alphanumeric
Size: 80 x 54 x 20 mm
Weight: 37 grams (without battery)
Color: Black
Display: 2 or 4 line LCD
View Area: 45 x 17 mm
VHF Frequency: 138~174 MHz
UHF Frequency: 408~473 MHz
Baud Rate: 512, 1200, 2400 bps
Capcodes: 6 capcodes
Code Format: POCSAG
Back Light: Blue
Features:
Memory Slots: 16, 10 sets of full message
Modes: Beep/Vibrate/Melody/Sleep
Beep Alerts: 4 Beeps/10 Melodies
Date/Time: Month, Date, Year, Time
Selective Message Lock/Delete: Yes
Daily Alarm Sets: 5 sets
Unread Message Display: Yes
Message Timestamp: Yes
Message Locks: 8
Clock/Calendar: Realtime clock calendar
Programming: PC or hand programming
Duplicate Message Detection: Yes