Home/ Products/ PageRouter Enterprise
SECURE MESSAGING
IN-HOUSE PAGING
WIRELESS PAGING EQUIPMENT
POCKET PAGERS
PageRouter Enterprise
Integrate messaging between computers, mobile devices and in-house paging.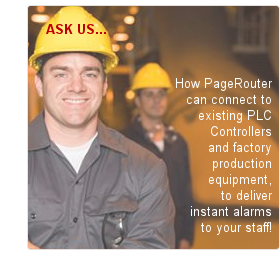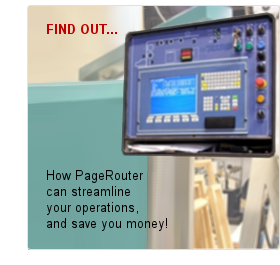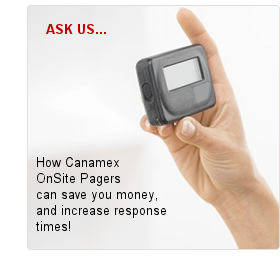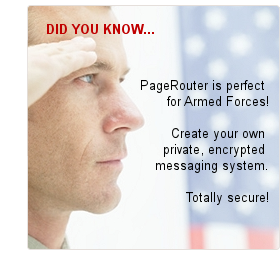 TeraMessage uses the PageRouter Enterprise server to integrate messages sent to in-house pagers, Smartphones and computers.
What is TeraMessage?
TeraMessage is an encrypted text message that travels between computers and smartphones using existing telecommunication infrastructures. TeraMessage travels on the Internet, public and private networks, and via national and international cellular networks. In TeraMessage, PageRouter Enterprise instantly routes TeraMessages between hundreds of users, simultaneously.

Who are the TeraMessage users?
The TeraMessage app user with a smartphone or tablet.
The TeraChat user with a computer or laptop.
The TeraPage in-house pager user.
The TeraMessage devices
TeraMessage works on Android devices and on any Apple product such as the iPhone, iPad, etc.
TeraChat works on Internet Explorer, Chrome, FireFox, and Safari; no need to install special software.
The Alpha4 Gold pager or any other Canamex pager.
TeraMessage for Hospitals
PageRouter Enterprise allows you to integrate messaging to in-house pagers, computers, smartphones and tablets. Revitalize in-house paging while adding the TeraMessage service. Send messages from touch-tone phones, nurse call and bed management systems, alarm and medical monitoring devices, etc.
TeraMessage for Governments
The TeraMessage is the best solution for Government Departments that need to protect sensitive mobile messages when traveling on the Internet. In addition to powerful operational features, TeraMessage gives the capability of establishing a reliable, private and secure text messaging operation between computer and mobile users.
WebPager Message Management
PageRouter Enterprise
is delivered with the powerful
WebPager Message Management
application. With WebPager, authorized TeraChat personnel can use any browser, on any network computer, to send messages to OnSite pagers, smartphones, tablets, and to other computer users. There is no need to install client software!
Replace old in-house paging equipment
Use PageRouter Enterprise to replace your obsolete paging equipment, or purchase a complete PageRouter Enterprise package that includes Canamex paging encoders, transmitters, and pagers. For OnSite paging, PageRouter Enterprise offers a single or dual transmitter configuration to provide 99.99% reliability.

sales@canamexcom.com
. Tell us what you need. We will configure a solution at no charge.